News
2011/04/25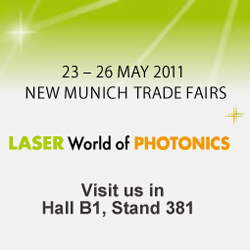 New Munich Trade Fairs Laser World of Photonics 2011
We introduce the following items in OPTOPRIM booth.: Xenon Light source MAX-303, Electrodeless Light source ELS-250, MAX-303 Applications, Photovoltaics Products, Xenon Light source Function, Defense & Security, Large Filter, Standard Filters.
Asahi Spectra products will be exhibited at New Munich Trade Fairs Laser World of Photonics in Germany, cooperated with our local agent, OPTOPRIM GmbH.
We will present a suitable light source for photochemistry experiment, such as photochromism and photocatalyst, MAX-303(Xenon 300W). This filter spectroscopic light source is substitutable for multiple wavelength laser or monochromator, and provides you an ideal light for your research with blocking IR heat.
Product and catalog highlights displayed comprise, electrodless light source, evaluation products of solar cell study, optics for defense and security, large optics among others.
Visit the OPTOPRIM booth in Hall B1, Stand 381. Also, see our distributions.
We introduce the following items.
Electrodeless Light source, ELS-250
MAX-303 Applications
Xenon Light source Function
Large Filter