High Transmission UV Bandpass Filters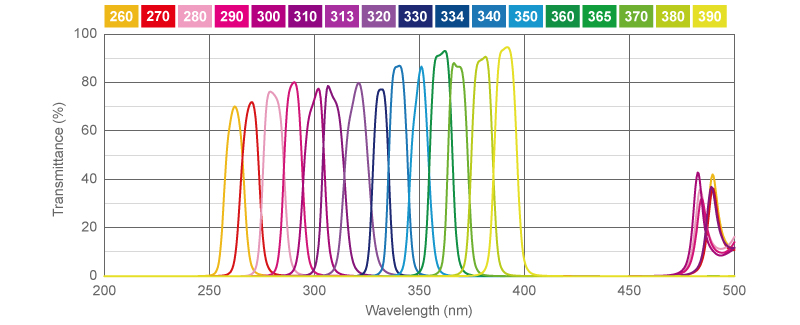 High transmission and high rejection in UV wavelengths
10nm FWHM
Our high transmission UV filters set the new standard in UV bandpass filter performance and reliability.
These filters achieve >60% - 70% transmission at the UV wavelengths from 254nm - 390nm, and
offer blocking of OD3.0 (0.1%) at the rejection bands. One of the unique feature is that rejected light is reflected
instead of absorbing, easing stray light management issues. Our high transmission UV filters provide you
to simplify system setup. Each filter performs yielding the maximum brightness and contrast in any UV application.
Description
CWL
(nm)
FWHM
(nm)
Min. Transmittance
(%)
Item#
25mm dia.
50x50mm
High Transmission Bandpass Filter / 254nm
254
10
60
XHQA254
High Transmission Bandpass Filter / 260nm
260
10
60
XHQA260
High Transmission Bandpass Filter / 270nm
270
10
60
XHQA270
High Transmission Bandpass Filter / 280nm
280
10
60
XHQA280
High Transmission Bandpass Filter / 290nm
290
10
60
XHQA290
High Transmission Bandpass Filter / 300nm
300
10
60
XHQA300
High Transmission Bandpass Filter / 310nm
310
10
60
XHQA310
High Transmission Bandpass Filter / 313nm
313
10
60
XHQA313
High Transmission Bandpass Filter / 320nm
320
10
65
XHQA320
ZHQA320
High Transmission Bandpass Filter / 330nm
330
10
65
XHQA330
ZHQA330
High Transmission Bandpass Filter / 334nm
334
10
65
XHQA334
ZHQA334
High Transmission Bandpass Filter / 340nm
340
10
65
XHQA340
ZHQA340
High Transmission Bandpass Filter / 350nm
350
10
65
XHQA350
ZHQA350
High Transmission Bandpass Filter / 360nm
360
10
70
XHQA360
ZHQA360
High Transmission Bandpass Filter / 365nm
365
10
70
XHQA365
ZHQA365
High Transmission Bandpass Filter / 370nm
370
10
70
XHQA370
ZHQA370
High Transmission Bandpass Filter / 380nm
380
10
70
XHQA380
ZHQA380
High Transmission Bandpass Filter / 390nm
390
10
70
XHQA390
ZHQA390