LED Light Source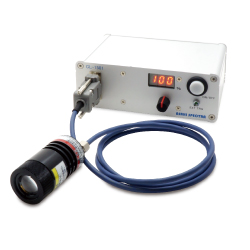 CL-1501
LED Light Source
Features
Rich lineup of LED heads
Adjustable light intensity
Timer function

*Option

Attachable lens units
Filter holder

*Option

Custom wavelengths
Long lamp life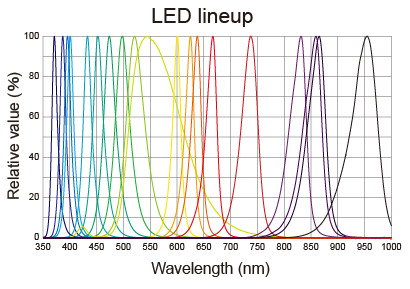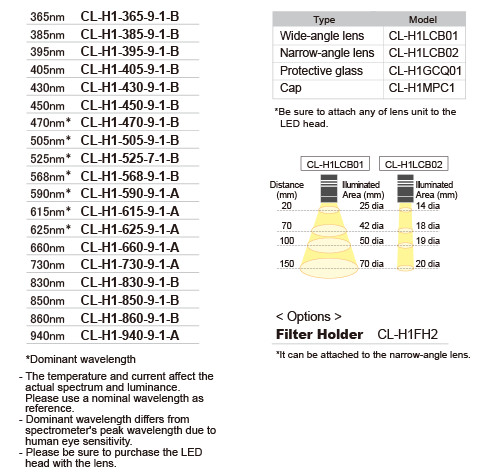 Narrow-angle Lens
This lens unit reduces the spread of LED light.
You can easily illuminate a sample from the side of a test tube.
It is also possible to increase the light intensity by adding LED heads.
Light Guide Rod
*Custom
You can illuminate a sample in a micro tube via the light guide rod.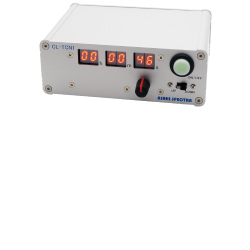 Timer CL-TCN1
It counts within the range of 99 hours 59 minutes 59 seconds.
You can choose countdown mode or countup mode.
Model
CL-1501
Light control method
Digital control 0-100 %
Output control method
Constant current control
Number of outputs
1 channel
Maximum output current
350mA, 500mA, 700mA, 900mA
*Auto-judge according to a connected LED head
External ON/OFF
External ON/OFF control function*
Simultaneous control
Daisy chain up to 8 units*
Supply voltage
Power supply AC adapter
Input: AC100-240V, 50/60Hz
Output: 15V1.2A
Connector for LED heads
D-sub 9 pin
Connector for daisy chain
R03-R3F (Trigger OUT), R03-R3M (Trigger IN)
Recommended environment
Temperature 5 - 35 deg C
Humidity 20 - 75% *Avoid condensation
For indoor use only
Cooling method
Natural cooling
Dimensions
141(W) x 98(D) x 53(H)mm
Weight
425g
*A dedicated external device is required.