Absorbance Measurement System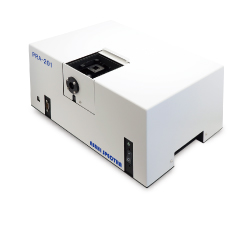 PRA-201
Measuring absorbance easily with high reproducibility in photoreaction
Features
Irradiating a sample and measuring absorbance in the same sample chamber
Built-in powermeter for checking excitation light intensity
CCD area sensor (200-800nm) for quick absorbance measurement
Various measurements by software
Magnetic stirrer

*Option

Removable sample chamber
System Configuration Example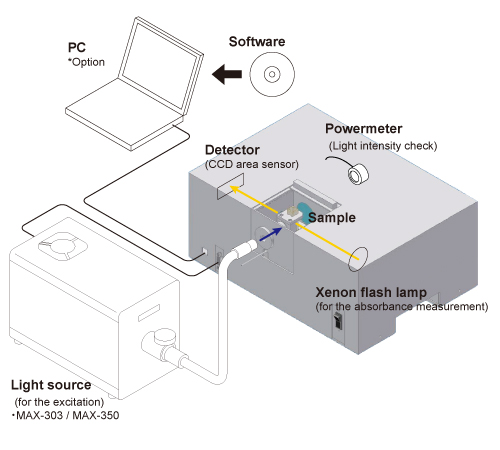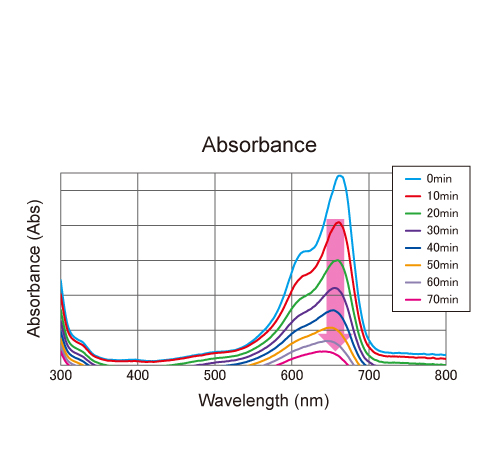 Measurement Process Example - Photoisomerization of Azobenzene

Software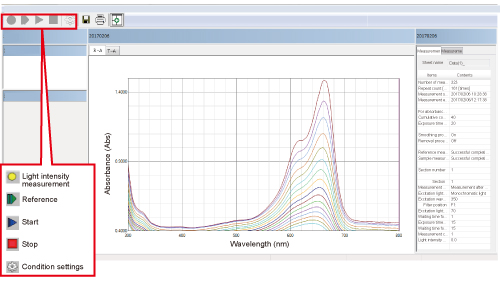 Various measurement conditions are settable.
- Absorbance measurement after/with excitation
- Exposure time settings
- Light intensity adjustment
- Automatic repetitive measurement
... and so on.

The software CD-ROM is included in the package.
Photoreaction material development
Artificial photosynthesis
Photochromism
Photocatalyst
Durability test
Material evaluation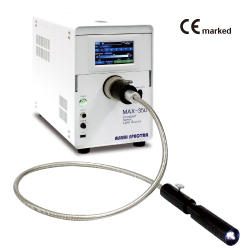 MAX-350
The MAX-350 is suitable as the excitation light source.
High power monochromatic light
IR heat blocking
Built-in filter wheel
Magnetic Stirrer
The magnetic stirrer enables you to perform a measurement while stirring a sample.
Model
PRA-201
Absorbance measurement section
- Light source
Xenon flash lamp
- Wavelength range
200 - 800nm
- Optical configuration
Polychromator
- Wavelength accuracy
±1.0nm
- Wavelength reproducibility
±0.5nm
- Resolution
3.4±0.6mm (Calculated value at 546.1nm) *No smoothing process
- Photometric accuracy
±0.03Abs(0 - 1.0Abs) *1
- Photodetector
Back-Illuminated CCD sensor
- Exposure time
10 - 500 msec
- Integration time
1 - 60 times
- Corresponding cell size
External size 12.5(W)mm x 12.5(D) x 45(H)mm
Powermeter section
- Wavelength range
260 - 800nm
- Measurement accuracy
Within ±15%
Input voltage
AC100V 50/60Hz
Apparent power
Less than 30VA (AC100V/50Hz)
Interface
USB2.0, 12Mbps (Full speed)
Safety mechanism
Sample chamber door is open
Recommended environment
Temperature 23.5 deg C (Operating range 10-35 deg C)
*Avoid unstable environment
Humidity 20-70% *Avoid condensation
Dimensions
380(W) x 260(D) x 170(H)mm
Weight
Less than 8.5kg
*1 Only by our measurement condition
* An optical filter is mountable to block an excitation light in the chamber.
*PRA-201 can also be used as a spectrophotometer when not connecting with a light source.